MI Abaga Tenders Unreserved Apology To Nigerians
MI Abaga Tenders Unreserved Apology To Nigerians
MI Abaga has tendered an apology to Nigerians over the tweets he posted that got almost everyone angry yesterday.
It appears apparently that MI was trying to play the role of a peace-maker after Nigerians attacked South African rapper, AKA with words for his 'support' for the Xenophobic attack on Nigerians and other Africans by his country people.
MI presenting himself as a peace-maker didn't go down well with a lot of people especially when he tried to let Nigerians know how much AKA loves Nigeria.
As a result, Nigerians bashed MI and mocked his insensitiveness. However, just over 24-hours, the talented rappee took to his Twitter page to tender an apology as well as give reasons why he thought that was the right thing to do.
He wrote; " To everyone I offended yesterday I apologise. It is always the right time for healing. I hope we can begin to listen to each other and discuss real lasting solutions. I know I will"
"I have been insulted and threatened so much. And though a part of me wanted to turn to anger.. I know that it was a test for me to lead with love. We have to see past our hurt into our hearts.. and fight hatred with love"
"Last.. I pray that we will all have someone that will speak the truth on our behalf in spite of the repercussions. If I did so in error God will judge… But courage is being able to say no when everyone else says yes.. no matter the personal cost."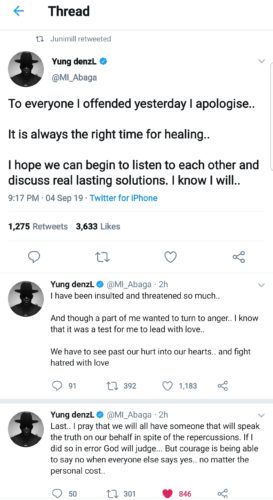 Could this be a season of rendering apologies?
Zlatan And Burna Boy To Drop New Song Titled 'Gbeku'
Nigerian artiste, Zlatan is gearing up to release another single titled, 'Gbeku', off his forthcoming album tagged: "Zanku To The World."
The song Gbeku is expected to be release alongside the self acclaimed African giant and Nigerian singer, Burna Boy.
However, the song marks their second collaboration after, 'Killin Dem' which bagged an award for Best Collaboration at the just concluded Headies Awards.
He further took to his Instagram handle: @zlatan_ibile to unveil the art cover of the song with his caption that read:
"Go Get a new dancing shoe 👟!! #GBEKU Prod by @rexxiepondabeat Mixed by @spyritmyx."
See post below;
Wizkid Explains Real Meaning Of "Joro"
Wizkid's newly released single, "Joro" dropped yesterday and since it dropped many have been asking questions on what the word "Joro" means.
There have been a lot of interpretations to the word without a concrete and agreed arrival. However, while the research and debate on the meaning of "Joro" continued, Wizkid explained the real meaning in detail. He revealed to Beats1's Julie Adenuga that "Joro" means nothing at the initial question from the OAP. But as Wizkid thought for the second time, he then revealed "Joro" is just a slang that is used to call the attention of a girl to come catch some fun.
Teni Is Ready To Release EP Soon
Pure talent and DDE Stargirl, Teni Entertainer, has revealed she will be releasing an EP soon.
The singer who broke the news on a recent Instagram post is yet to reveal the EP title, art and tracklist.
Haven released back to back hit tracks, it would be safe to say an EP from Teni sounds promising. Fans would anxiously wait for this as I myself can't wait to listen to what Teni has in stock for us.
Recently, Teni was the talk on social media when dropped a freestyle with Kranium.
She also drew attention to herself when she kissed a white fan on stage who showed how much of her lyrics he knew.
See post below;
View this post on Instagram